Your city
This is where the pulse of the city beats. In unison.
International. Lively and always different at every corner. Dit is Berlin. Independent and yet connected, the 12 districts form a unique picture of a unique capital. Where art and cultures come together, an airport becomes a never-ending story and people carry their hearts on their tongues.
In the middle of it: The Emerald Isle. Charlottenburg. Here you can feel the pulse of the capital a little more calmly. City location without big city stress. Being right on your doorstep in the green countryside and the Spree meandering through like a vein. Lively and unstoppable, it could well be the symbol of life at Charlottenbogen. This is where you will find your new home – this is where you start living.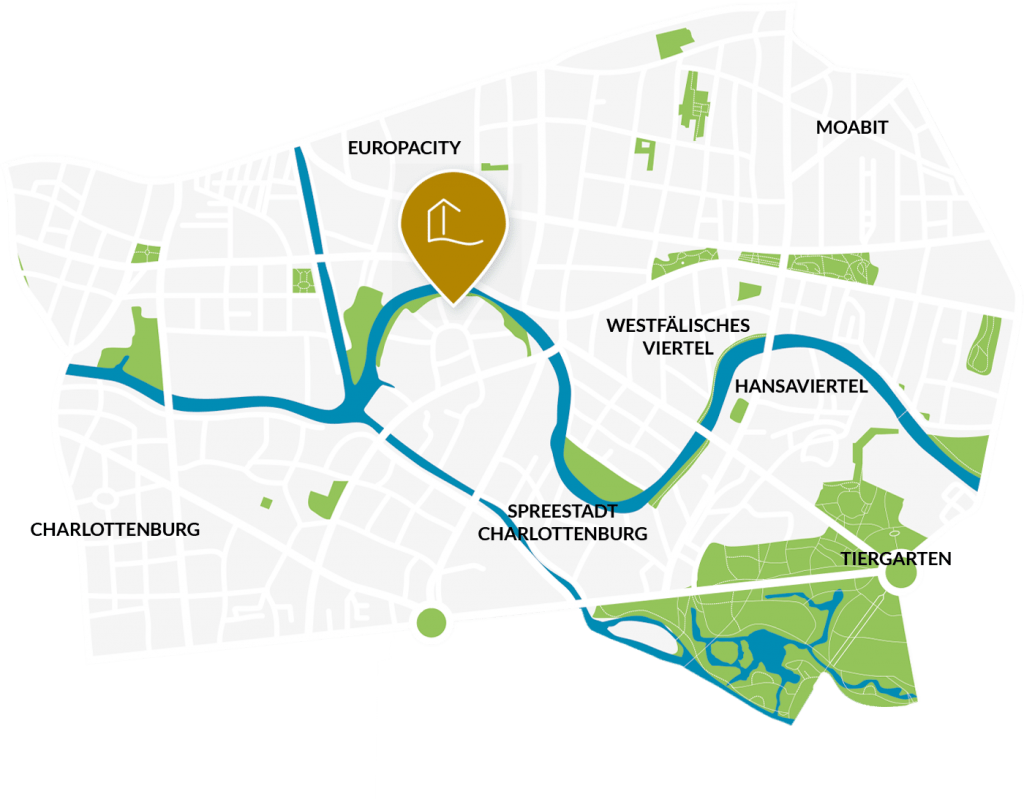 Your neighborhood
More than one district. Part of your life.
Idyllic and alive. In the middle of it all and in nature. Modern and historical. Situated west of the Mitte-Buzz directly on the banks of the Spree, a district manages to unite the greatest contrasts. Charlottenburg. Here life is not only on the river but also in the river.
And so the district is constantly developing: The Zoological Garden is nearby, only a few minutes drive to the Ku'damm and for shopping in trendy Bikini Berlin and right there in the opposite direction – The Charlottenburger Schloss. If you want to feel the pulse of Berlin, but also want to relax, here is your island. Your home for life.
Time travel
A life by the river that made history.
Planned with a view to the future, Charlottenbogen can look back on a real piece of Berlin aristocratic history. Now you can continue writing it.
In Charlottenburg you are surrounded by highlights.
Everything there. Right outside your door.
In the neighborhood
You're in for a treat.