Many people can sell flowers. Flower design, as Karsten Flöter makes it – for this you need an eye and passion. A visit to the Flower Factory, where beauty is created for the moment.
Open door. Step inside. The scent is the first thing that strikes you. Fresh, invigorating. A delicate hint of rose comes from the left, a bit of lavender flies over from the right. The smell is one thing – unmistakably a flower store. The view reveals more: large mirrors, smooth surfaces, carefully draped glass and gold vases – a mixture of noble catalog and splendid garden. Here and there a bound bouquet, not too much, not too little. Dried flowers and grasses set their own accents. Curious strollers look through the window at the colorful splendor.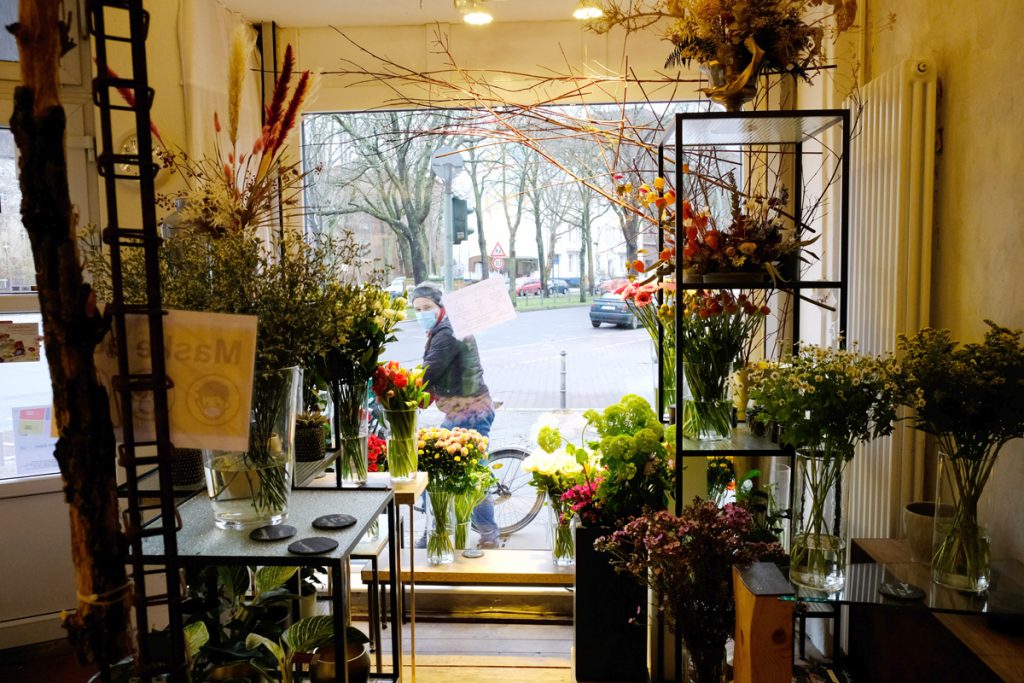 Karsten Flöter is the master of flowers. 57 years. Clear blue eyes. For over 20 years, he and his store have had a place in this neighborhood, right on the Spree River, just a few minutes' walk from the Charlottenbogen construction project. Flöter likes living and working in this neighborhood. Many small lovers' stores, student flat-shares, young families, professors, colorful mix. "The neighborhood is home," he says.
"Actually, I wanted to be a stage designer," says Flöter, looking at his hands. Laughs softly. "I work with my hands anyway. I'm creative, too." A good compromise. His next order: a funeral wreath, but a special one. Just not sad, but something colorful, life-affirming, cheerful. His hands sort through the long, short, tall, short, yellow, white, red flowers as if by themselves. His eyes check the stems, the heads. Only then does he put the flower into the wreath. It has to be perfect.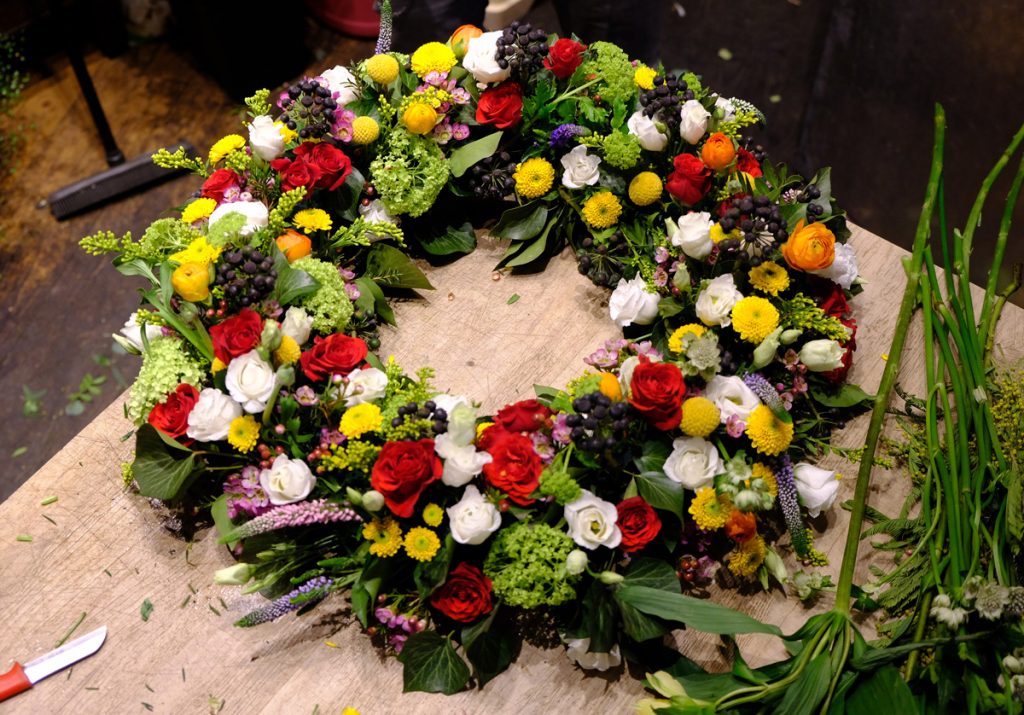 Flöter has a quiet manner. But when he talks about this art of design, he puts weight into his voice. Then he says sentences that could also be printed on postcards. Sentences like: "Nature is the greatest artist of all. She creates works of art, in a beauty that man will never achieve."
He started out at the cemetery, as a landscape gardener. Making graves beautiful, restoring hedges. He likes the fact that he creates something that is visible. That there is a before and an after. A change. Then he buys the cemetery nursery, even becomes an instructor, works his way into floristry. But he wants more, wants to create, wants to create a magical world like on stage in a play.
Wedding couples who want a floral celebration come to him. Flöter takes up the ideas of the bride and groom. Thinks them further and advises how it can then look. Sometimes he constructs entire frames to create floral sculptures through which the bridal couple can walk, for example. When someone buys a bouquet in the store, they want it to last a long time. With a wedding, it's all about the moment, a few hours, an evening, moments when you want it to be gorgeous."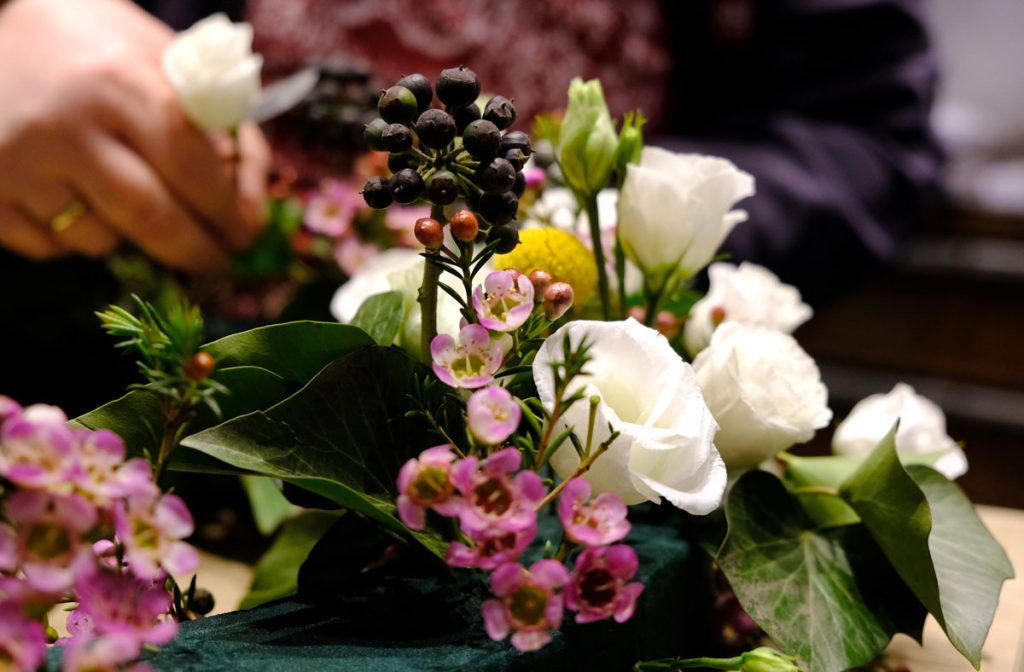 Tastes and trends change. Right now, "vintage" is in: dried flowers and natural materials, seasonal flowers and herbs. "There's also a sustainability idea behind it that's very important to me," says Flöter. As much as possible, he tries to source flowers from Germany. If not, he pays attention to the labor and ecological conditions under which the flowers were grown. "Flowers are a renewable resource. If the rainforest is cut down for them or the last water reserves are used, that doesn't do anyone any good."
Two of his employees come into the store. They bring in constructions made of wood, stone and wire, each draped with flowers in such a way as to create its own image. For a week, these floral portraits adorned lawyers' offices, doctors' offices or private homes. Flowers by subscription, delivered fresh every week.
"Designing flowers is my life and my deepest passion," he says, and you immediately believe him.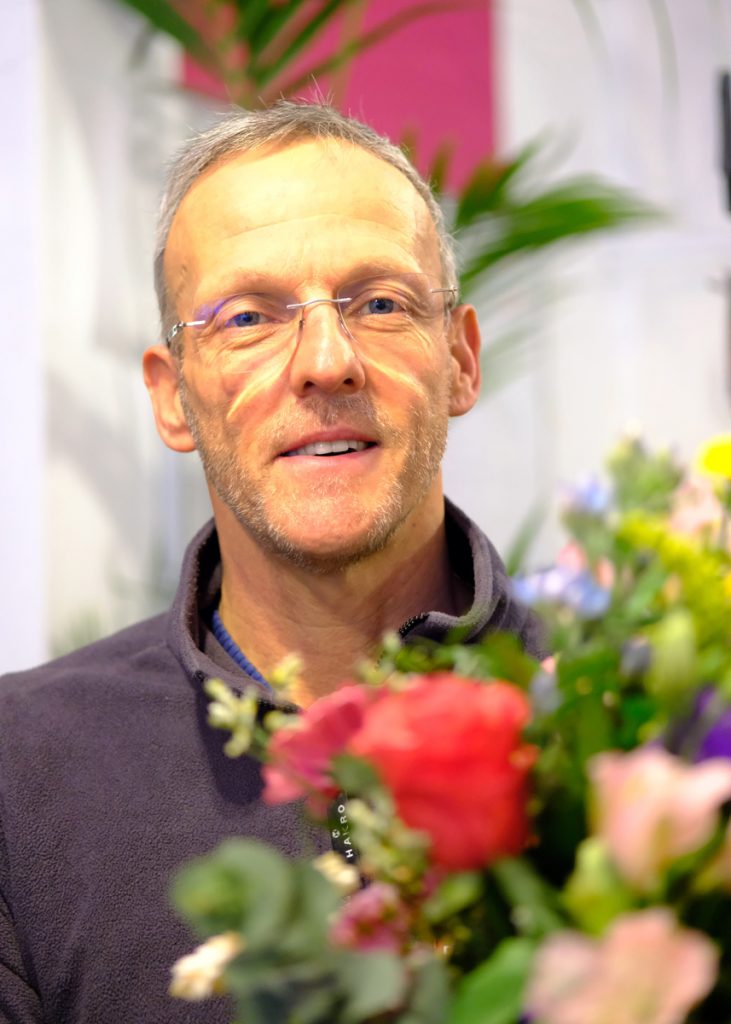 Flower Factory
Levetzowstraße 20, 10555 Berlin
https://www.flower-factory.de/