In the Charlottenbogen-Kiez you can eat around the world – from Asia to Latin America, to Europe, to Arabia. Restaurants nestle up against burger shops, squeeze in next to snacks. Once counted, there are currently exactly 20 possibilities to get something warm and tasty on your plate if you don't want to eat at home. From upscale and cozy to good and fast everything is there.
Welcome to a short tour of the Culinary district.
A phenomenon can be observed during the week between 12 and 14 o'clock. Then people stream out of the surrounding offices and enter the streets in search of free tables and chairs. Then the restaurant employees from Vietnam, Italy and Turkey rotate. Then they cook a race to see who can finish more pizzas, fry more salmon, fry more spaetzle, fry more chicken.
Station 1: Pizza Rosso – small but fine and above all an original.
Location: Helmholtzstraße 24, open from 11.30 am.
With these four friends you can appear completely relaxed. Simply open the door and enter the shop, more of a snack atmosphere than restaurant flair. The room is small, nine tables are there. It is cozy, the atmosphere is good, the colorful mixture of people talks and laughs and munch. No card payment, only cash and self-service. But what you can serve yourself here is the original Pinsa Romana, which the four Italian friends Andrea, Marco, Massimo and Salvo offer here.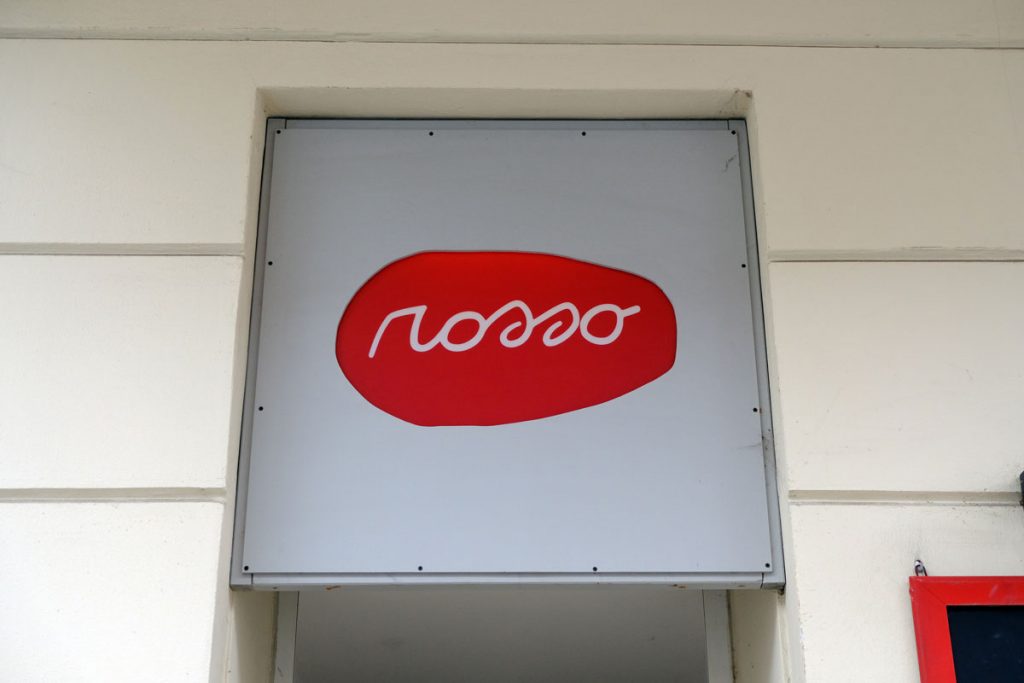 Their real "Italia streetfood restaurant" has been in Berlin for two years now. Their mission: They want to make the Pinsa Romana known in Germany. And the way the guys behind the counter are laughing and banging their elbows, they seem to have fun doing it. Even when they knead, beat, roll, then cover and put in the oven one dough after the other. They manage around 250 pieces a day.
For all those who have never heard of it: Yes, Pinsa is also pizza, a kind of primordial pizza or gourmet pizza, if you like. In total, there are four basic kinds of dough. The Pinsa pizza was already baked thousands of years ago in ancient Rome.
The pinsa is made of three types of flour: wheat, rice and soy flour and some dry yeast for the taste of traditional bread. Add water and plenty of time. Between 24 and 72 hours the dough ferments and works. But if you look for more details, all you get at the counter is a shake of the head and a finger pointing to the blackboard on the wall which says: "The secret of the pizza is the water, the tomatoes, the flour, the pizza dough, the stone oven. The secret of the pizza is a secret."
Now it is there, the secret, warm, fragrant, served on an elongated wooden board. Fluffy, crispy, light, that is how the dough tastes. Pinsa is also said to be easier to digest than normal pizza. The topping is either red or white sauce and then the classics: funghi, gorgonzola, vegana, salami, but also zucchini or leek sprouts or artichokes. You can also eat lasagna and for dessert a dessert of the day: Panna Cotta for example. There is red wine and beer to drink, but also fizzy drinks and juice.
Together you can spend between eight and fifteen euros per meal.
Rating: The special pizza for a cozy and unexcited meal outing also with the family.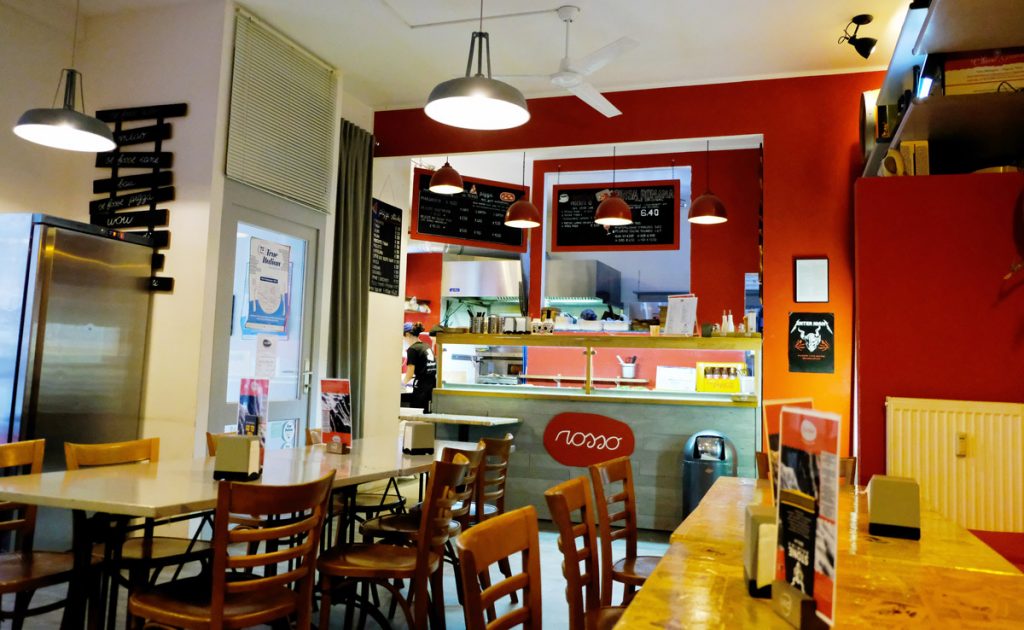 Station 2: Off to Vietnam ins Imaki Today.
Ort: Helmholtzstraße 31, open from 11 am.
Open the door and you have the first impression in your nose: it smells of rice, freshly roasted salmon, ginger and lime. Second impression: it is fast. The young women with the aprons move quickly and effectively between the tables. Taking orders, wiping the table, putting away the dishes, a friendly smile. Impression number three: modern in appearance, bright and only slightly exotic, Vietnam greets you with stylized house silhouettes drawn on the wall.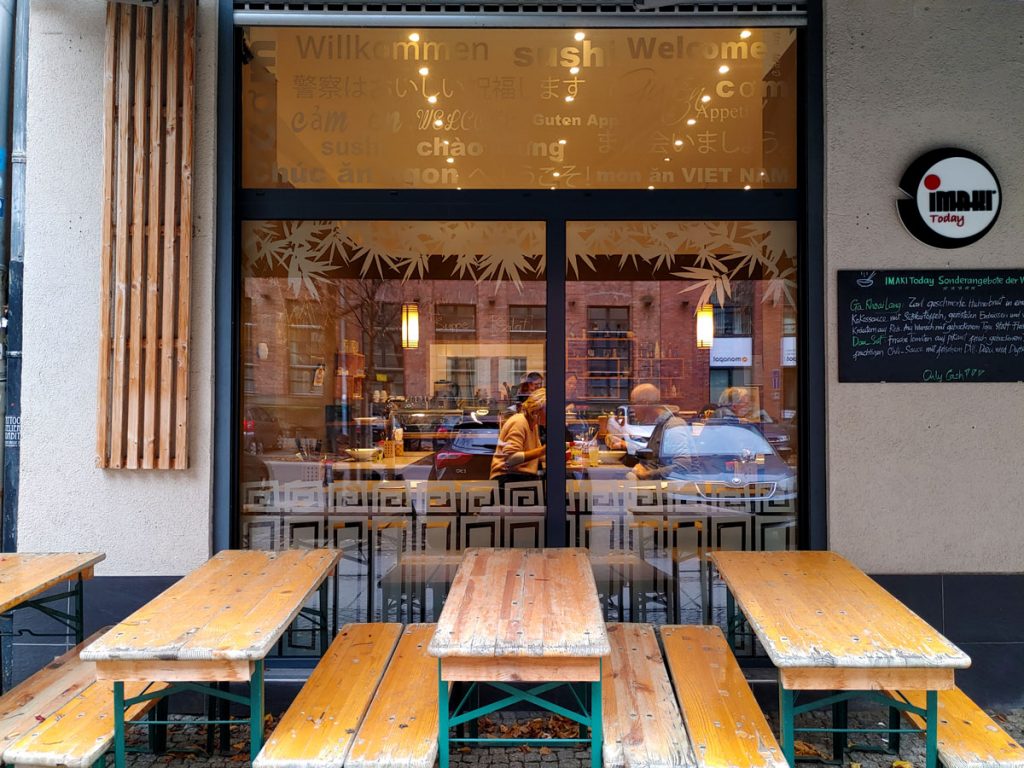 Order: "Spicy grilled salmon filet in a light cinnamon-coconut sauce with fresh vegetables and roasted peanuts on Vietnamese jasmine rice". Served with a fresh lime juice.
Through a large hatch you can watch the cooks at work. They whirl back and forth between the stoves, they cut at a rapid pace, they spread the food on the plates and pass them onward. Soups, main courses, desserts, Zack, Zack.
It takes less than nine minutes, then the salmon fillet is there. The portions are fair for lunch, not too much, not too little. Light and laid back that's how it tastes, a bit like spring, the fish is pleasant and tender, not as spicy as we thought, but crispy.
If you look around, you see the many other guests with satisfied faces, an Asian looking couple at the neighboring table. They want to get to know Berlin and are already looking forward to the Brandenburg Gate and the Reichstag. He eats chicken, she a glass noodle salad. The food tastes very European, they tell him, so not so hot, not so strongly spiced, but still good.
A portion with drink costs between eight and twelve euros.
Rating: For a quick, good meal with an exotic touch. The food description on the menu keeps its promise.