UPDATE: The Bad Atelier had to be closed in the course of construction work.// June 2021
What should the bathroom look like when it is finished? Imagining this in your mind is one thing. To see it in real life is something completely different. The Bad Atelier makes it possible. A visit.
Just now you are still standing on the street, above you the construction crane is turning, workers are scurrying through the building shells. But if you follow Jens Rodenbusch as he pushes a fence to the side, as he unlocks the door to a container and follows him through this door, you think you are standing in another world with just one step. No more shell construction, but a finished bathroom on 30 square metres: shower, bathtub, washbasin, toilet and lots of tiles with different textures and in different colours.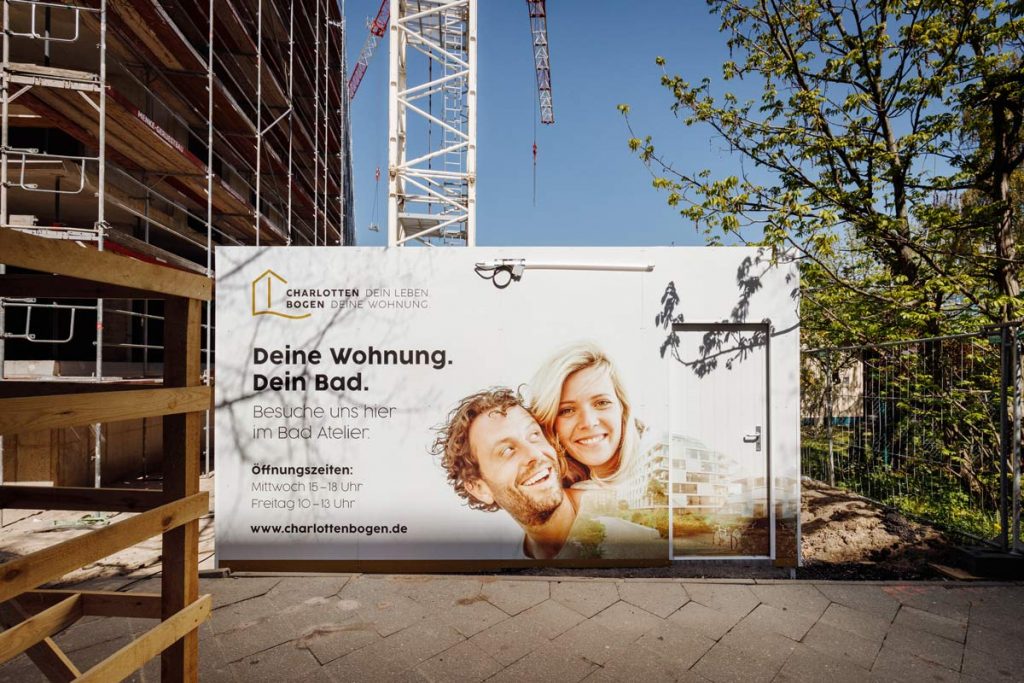 Welcome to the Bad Atelier. The container is located a bit off the building site. It has been specially designed to give you a good idea of what your future bathroom could look like. "First and foremost it is all about the tiles. What kind of tiles should it be and what colour should they be? You can see that much better here than perhaps just with a small pattern in your hand or even on the screen," explains Jens Rodenbusch, whose job it is to advise people when buying one of the Charlottenbogen flats.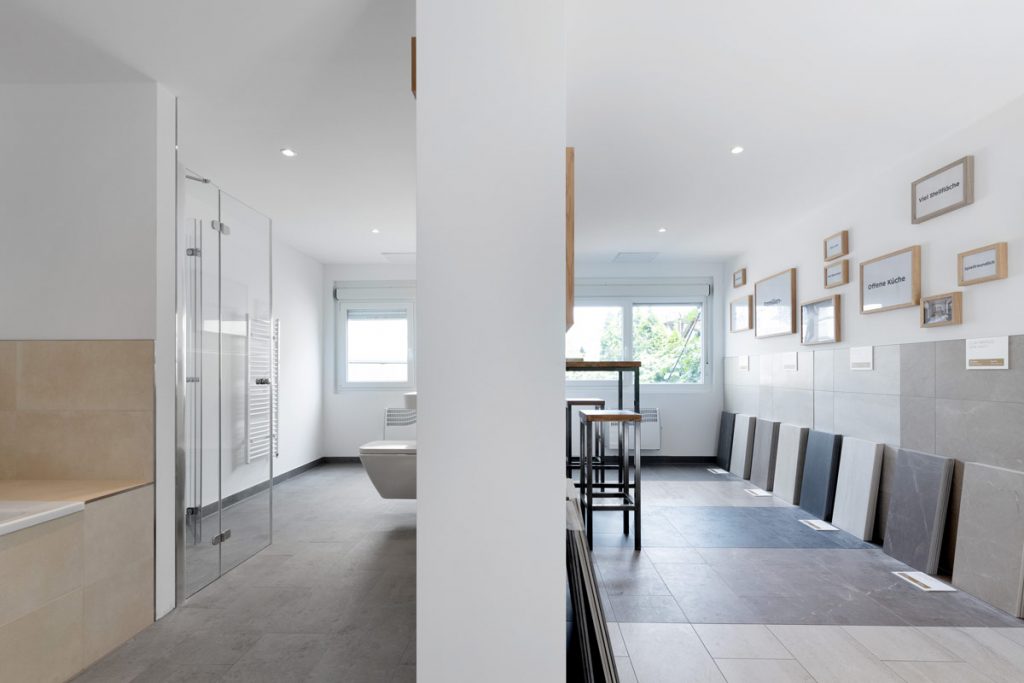 The walls of the bathroom atelier are covered with many different types of tiles, which come from the manufacturers Porcelaingres and Graniti Fiandre. Both come from Italy, but produce in Germany – one in Vetschau, the other in Cottbus – so delivery routes remain short. "These are porcelain stoneware tiles. They are fired, have a better quality, can withstand a lot, are easy to clean and have that special look," says Rodenbusch. In fact, these porcelain stoneware tiles are not simply smooth, but have a structure and texture. Not obtrusive, but rather subtle and noble, they help to shape the room.
But how can you decide between OF Cool Semi-Matt, Urban Ivory Rioa or Color Moods Sandtone Pearl and Neo White Semi-Matt? "These are your own preferences, which are decisive here. Which colour appeals to you the most? We will find out together. No one has ever left here without finding their real tiles."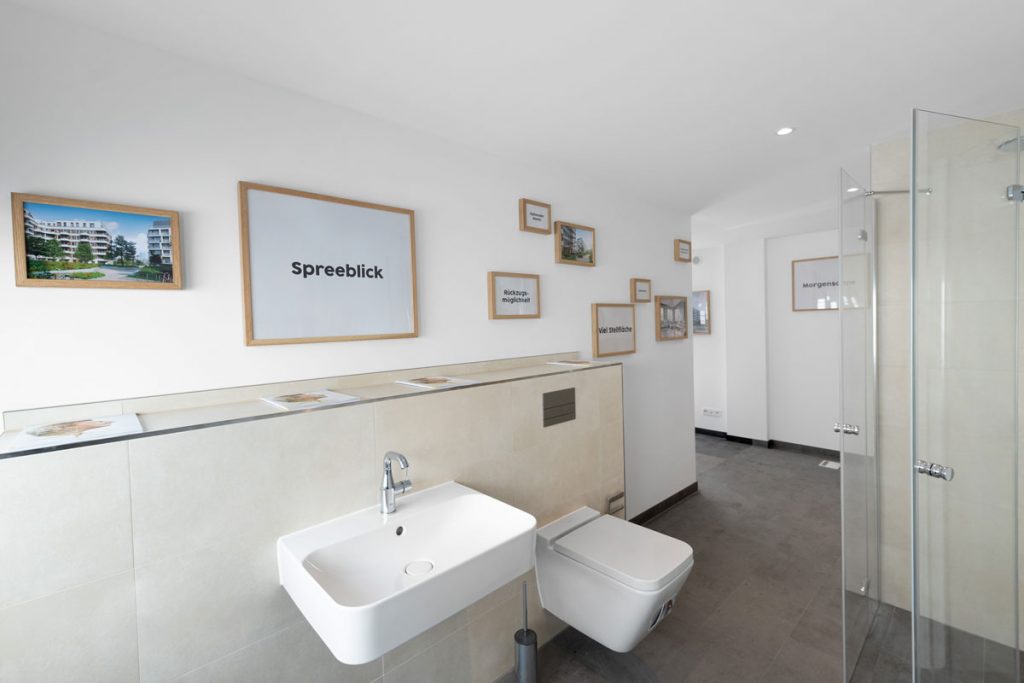 Generally speaking, most people choose a darker floor and lighter tiles for the walls. The tiles are each 30 x 60 centimetres and are laid in a cross-bond, i.e. in such a way that all the joints cross over each other. In addition to the tiles, you can also admire the bathtub and shower in real life. In the case of the bathtub, the water runs in via the overflow. There is no tap that you could bump into. The shower is level with the floor, so there are no steps or risers, making it suitable for old people. The shower is called "Raindance". It comes from the house of Hans Grohe and has an extra large jet disc installed. The waste water flows out through a wall drain, i.e. a slot in the wall.
"You don't see a special highlight at all. The water is first decalcified in our own decalcification plant. Even the coffee tastes like this, despite the particularly hard Berlin water," says Jens Rodenbusch. He is always happy to welcome customers here on the construction site in the Bad Atelier. Then they go into the shell of the building, exactly where the flat will be. Then they choose the right tiles. "That's really fun," he says.